The Levitt AMP [Your City] Grant is a $25,000 matching grant, meaning that in order to receive the full grant award we must receive an equal amount of funding from the community each year.

Each year, community businesses, organizations, and individuals like yourselves make generous contributions to the series which make it possible.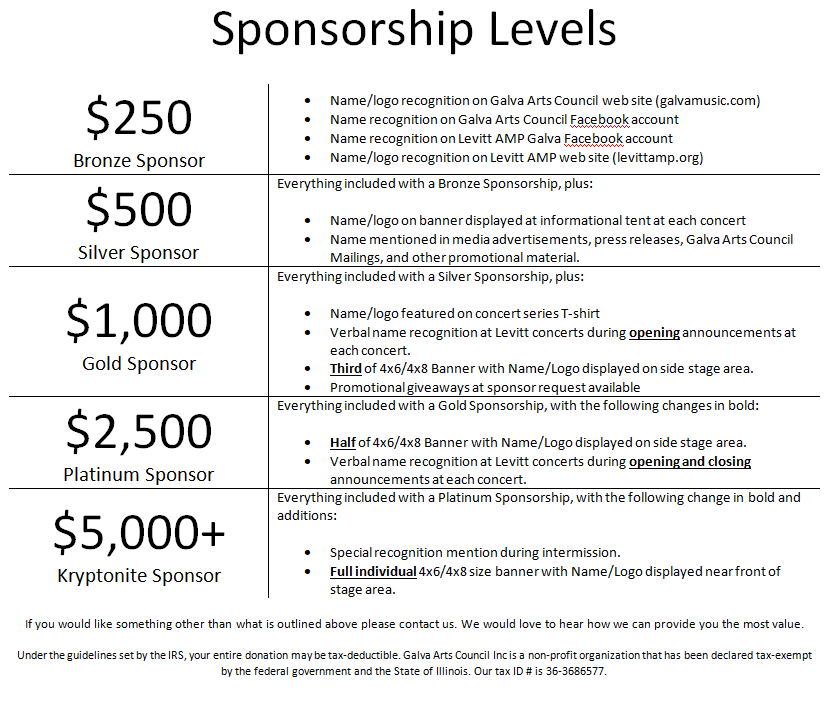 2020 Sponsors
Become a sponsor of the 2020 concert series!
2019 Sponsors
Alan and Jeanne Harland
Alex Stisser
Alyssa Loughe
Amanda Atkinson Laub
Amy Martin
Annette and Randy Smith
Azteca de Oro
Back Road Music Festival
Bellbottom Farm
Beta Sigma Phi
Big River Resources
Bishop Hill Bakery & Eatery
Bob Taylor
Boiler Room
Brenda Holmes
Bumman Concessions
Carlin and Bob Follis
Casey Austin
Casey's General Store
Cecil Duffy
Chet and Lynn Travis
Christian Butler
Chris Stevens
Christopher Dilworth
Cindy Thomson
City of Galva
Community Foundation of Central Illinois
Community State Bank
Country Financial – Dan Meyer
Courtyard Estates
Creative Construction (Loren Murray)
Crescent City Tap
CSB Insurance
Dan Cromien
Daniel Watkins
Darcy Frison-Franks
David Genac
Deb and Ron Root
Debbie Ackerman
Debbie Wright of Melfoster Company
Desi Luckey-Rohling
Diana Whitney
Diane Gibson
Dixline
Done Right TV
Eileen Brekke Leunig
Foxtales International (Brian "Fox" Ellis)
Galva Chamber of Commerce
Galva Pharmacy
Gary Metivier
Gary Morgan
Gary and Shearon Armel
Gordon Anderson
Greg and Julie Strandberg
Greg Peterson
Gregory Weinberg
Hand Taylored Massage
Hathaways
Huffman Farms
Jackie White
Jamie-Sue Seal
Jason Young
Jeff Hatch and Donna Anderson
Jeff Putman
Jennifer Alig-Stumphy
Jennifer Brokaw
Jim Swanson
Jonathan Wangelin photography
Julie Yepsen Memorial Fund
Karen Andersen Cathelyn
Kathy Cuff
Kathy Fargher
Katie O'Dell-Hilton
Katrina Morrison
Kelly Craig
Kevin and Kim Lindberg
Kevin Gerard
Knox-Galesburg Symphony
Koreen Jurgensen
Lance Hanson
Laurie Berthel
Linnea Peterson Johnson
Lee Ptasnik
Linda and Terry Raley
Marge Dickinson
Mary Fuson
Mediacom
Megan Sloan
Melissa Halsall
Mersman Memories Photography
Michelle Smith
Michelle Newman
Midwest Carpets
Mike Romkey
Mike Roberg
Mike Yepsen
Nancy and Ben Anderson
Nancy Hogeboom
Nature's Creations
Patricia Raley
Patrick Hyde
Patti Cooper
Patty Kearney Ramirez
Patty Brokaw Gibson
Paul Adams
Paul Appell
Paul Waliker
Peggy Arter
Pointer Chiropractic
Porter Hay Insurance
Quad City Arts
Regional Media
Rene Richard
Rich Crowe
Robert Lovejoy
Robert Osmers
Rod Taylor
Roni Benson
Rusty and Marcy Smet
Ryan Westart
Sally Nelson
Savannah Ballard
Scott Bevans
Seth Briggs
Shelby Delellis
Sheryl Schluenz
Shirley Brokaw
Snazzy's Lemonade
State Bank of Toulon
Subway (Galva)
Sue Jergensen
Tamara Baugh
Teresa Cuff
The Colony Inn
Theresa Armel
Timothy Yates
Tina Hutchinson
Trademark Vacations
Tri County Eye Care
Tri States Radio
Twinflower Inn
Uncommon Groove
Wade and Elaine Nystrom
WCBU
Wendy Collinson
William Lindquist
WVIK
2018 Sponsors
Amanda Atkinson Laub
Amy Andrews
Amy Dennison
Ann Smith
Annette Berg Smith
Annette Boarini
Azteca de Oro
Back Road Music Festival
Beth Joyce
Big River Resources
Bishop Hill Bakery & Eatery
Bob Taylor
Brenda Holmes
Brian "Fox" Ellis
Brian Dennison
Brooke Birmingham
Bumann Concessions
Burnell Eckardt
Carey Cavins
Casey's General Store
Chet and Lynn Travis
Christy Perkins
City of Galva
Community Foundation of Central Illinois
Country Financial
Crescent City Tap
Daniel Cromien
David Brooks
David McClintic
David Thomson
Debbie Lindburg
Diana Whitney
Diana Whitney
Dixline
Donald Jenkins
Edward Peacock
Elizabeth Dunn
Eric Majeski
Erisa Kopp
Fallengrund Alpacas
FrankieJoe Willderman
Galesburg Community Foundation
Galva Chamber of Commerce
Galva Florist
Galva Masonic Lodge #243
Galva PEO
Galva Pharmacy
Galva Schools
Gary & Shearon Armel
Gustafson Ford
Hand Taylored Massage
Hathaway's
Illinois Arts Council
In Memory of Bill Martin Jr.
Jacquie Kendall
Jason Bates
Jeff Hatch
Jennifer Belvel
John H. Best & Sons, Inc.
John Vogel
John Wallenfeldt
John Wangelin Photography
Josh Pitcher
Judith Middleton
Karen Andersen Cathelyn
Kathy Cuff
Katrina Morrison
Linda Raley
Lindsay VonHolten
Linnea Peterson Johnson
Marge Dickinson
Marlene Berg
Mary Bess Bolling
Mediacom
Megan Sloan
Mel Foster Co Kewanee (Debbie and Cliff Wright)
Menards
Michael and Lynne Grant Faller
Michael Cain
Michele Burta
Michelle Elaine
Midwest Carpet
Mike & Vickie Massie
Mike Kirley
Nancy Carlson
Nancy Klein Anderson
Nikelle Tellier
Norm Brown
Patricia Raley
Patti Cooper
Paul Appell
Paula Evans
Penny Mirocha
Porter Hay Insurance
Quad City Arts
Regional Media
Robyn Terwilliger
Rusty-Marcy Smet
Samantha Cuff
Sarah and Nathan Hahn
Sharon Love
Shelly Hurd
Signe Moess Griffin
Snazzy's Lemonade
State Bank of Toulon
Susan Shultz, Newt Larson, Almquist Family
Sweet Annie's Primatives
Teresa Cuff
Tim Funk
Tina Hutchinson
Trademark Vacations (Shawn Kendall)
Tri-County Eye Care
Twinflower Inn
Wes Wells
William Cardiff